Nova
Folds into your life
From birth up to approx. 3.5 years
up to 15 kg
- Unique hands-free folding
- All-terrain shock absorbing wheels
- Ultra-padded ergonomic seat
- Flexible from birth to 3.5 years
Product description
Enjoy the great outdoors with your baby and turn every future step into an adventure with Nova, the smartest crossover pushchair from Maxi-Cosi. Press Nova's pedal with your foot and watch it fold automatically in seconds
In just 2 clicks, add a Maxi-Cosi carrycot and baby car seat to transform the new Nova into a 3-in-1 full mobility solution*, suitable from birth to 3.5 years. The new 3-in-1 Nova pushchair is perfect for you if... - You're looking for the smartest, most comfortable all-terrain 4-wheel pushchair. - You live in the suburbs, the mountains or the countryside and you want to use a pushchair on all surfaces. - You love the feeling of moving smoothly, safely and in style in any environment. With the new Nova, you'll enjoy the most intuitive all-terrain pushchair with best-in-class comfort for baby. Baby will discover the wonder of the outdoors with the Nova, thanks to its smart, hands-free folding, ergonomic protective inlay, all-terrain shock absorbing wheels and puncture-proof tyres. * Carrycot and baby car seat sold separately
What's in the box
Nova 4 wheels shopping basket
Nova 4 wheels sun canopy
Nova 4 wheels raincover
Nova 4 wheels bumper bar
Nova 4 wheels parasol clip
Car seat adapters
Best-in-class comfort and safety for baby:
First ultra-padded and ergonomic extra inlay
Ultra-extendable canopy
Full reclining seat (+6M)
Full from-birth mobility solution
Seat adjusts to parent-facing or road facing in 2 clicks
Adjustable leg rest and headrest
Raincover included
Maxi-Cosi 5-point harness
Bumper bar Easy to use for parents:
Flexible from-birth travel system
Intuitive, unique hands-free folding
Long life, puncture-proof all-terrain wheels
Pushbar adjusts to parent's height in 2 clicks
Lockable swivel wheels
Easily removable front and rear wheels
Large easy-to-access shopping basket
Braking system works easily using 1 foot
Compatible with Kensington lock for theft protection
Removable machine washable stroller cover Premium design:
Contemporary style
Available with 3 or 4 wheels
Leather-look finish
Wide selection of fashionable colors
A selection of stylish accessories We're always here for you:
Contact the Maxi-Cosi team 24/7 for advice on anything from choosing your product to help after purchase.
Plus, enjoy your lifetime warranty.
FAQs
How can I use the Maxi-Cosi Nova stroller from birth?
We strongly advise using a Gr0+ or a carrycot during the first 6 months of baby at least when using a stroller. But for those who really want to use the seat in the very first months Maxi-Cosi has developed a Baby Cocoon that perfectly fits Nova. This last one offers a perfect comfort and natural laying position into the stroller seat for baby. In addition, baby will be perfectly protected from wind and the temperature will be under control.
Is it possible to switch from a 3 to a 4 wheels solution or from a 4 to a 3 wheels solution with Nova?
Maxi-Cosi gives you the option from buying a 3 or 4 wheels Nova stroller, however it is not possible to switch as the front wheel fork is not sold as a separate accessory.
What's included with the Maxi-Cosi Nova stroller?
The Maxi-Cosi Nova comes as a complete package. It includes a: • stroller frame • 1 x seat unit with cover • 1 x canopy • 1 x shopping basket • set of front and rear wheels (4 or 3 wheels) • 1 x parasol clip • 1 x raincover •CAR SEAT ADAPTORS
Can I use a parasol with the Maxi-Cosi Nova stroller?
Yes. You can easily fit the Maxi-Cosi Parasol on the Nova stroller. A parasol clip is included with your Maxi-Cosi stroller.
Can I hang a nursery bag on the Maxi-Cosi Nova stroller?
Yes. You can hang a nursery bag on the handles of the Maxi-Cosi Nova stroller. The maximum weight limit is 2kg.
How do I fold the Maxi-Cosi Nova stroller?​
You can fold easily the Maxi-Cosi Nova stroller with its unique hands-free folding: just press the magic pedal with your foot and watch the stroller fold by itself in seconds!
What kind of wheels does the Maxi-Cosi Nova stroller have?
Nova's 4 wheels are made of PU, a type of high-quality foam rubber that's known for its durability – it's used in skateboard tyres and running shoes. The tyres are filled with foam, so they'll never go flat. And, because they're so shock absorbant, they're great for rough surfaces and bumpy roads.
How do I set up and use the Maxi-Cosi Nova stroller?
For instructions on set-up and use, watch our demonstration video. It's divided into chapters, so you can easily skip to the part you want.
Can I wash the Maxi-Cosi Nova comfort cushion and cover?
Yes. Both the Nova cover and the comfort cushion are washable. We recommend washing by hand with a sponge, soap and water.
Does the Maxi-Cosi Nova stroller apply for the Life Time Warranty service proposed by Maxi-Cosi?
Yes. In fact, all our strollers, carrycots, carseats and bases are eligible for the Life Time Warranty service offered by Maxi-Cosi. When purchasing a Maxi-Cosi product, you need to register it on the following website to ensure you will be covered. The Life Time Warranty covers manufacturing defects when the products are used normally and as instructed in the manual. It does not cover normal wear and tear or damage caused by accidents.
See it in action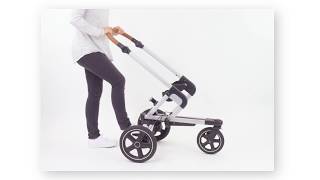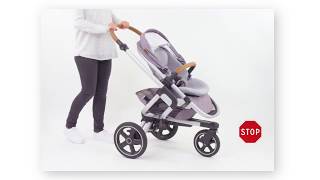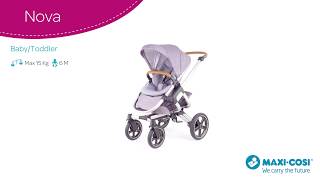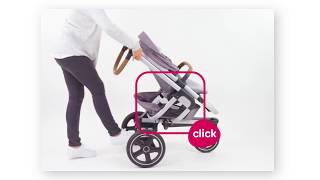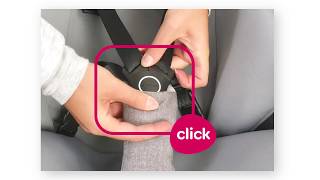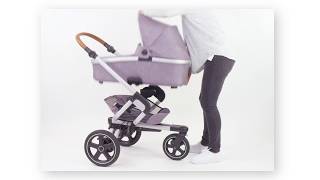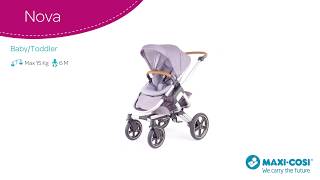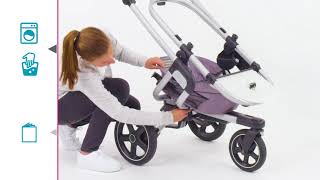 PDP_REVIEWS_BLOCK_TITLE Nova