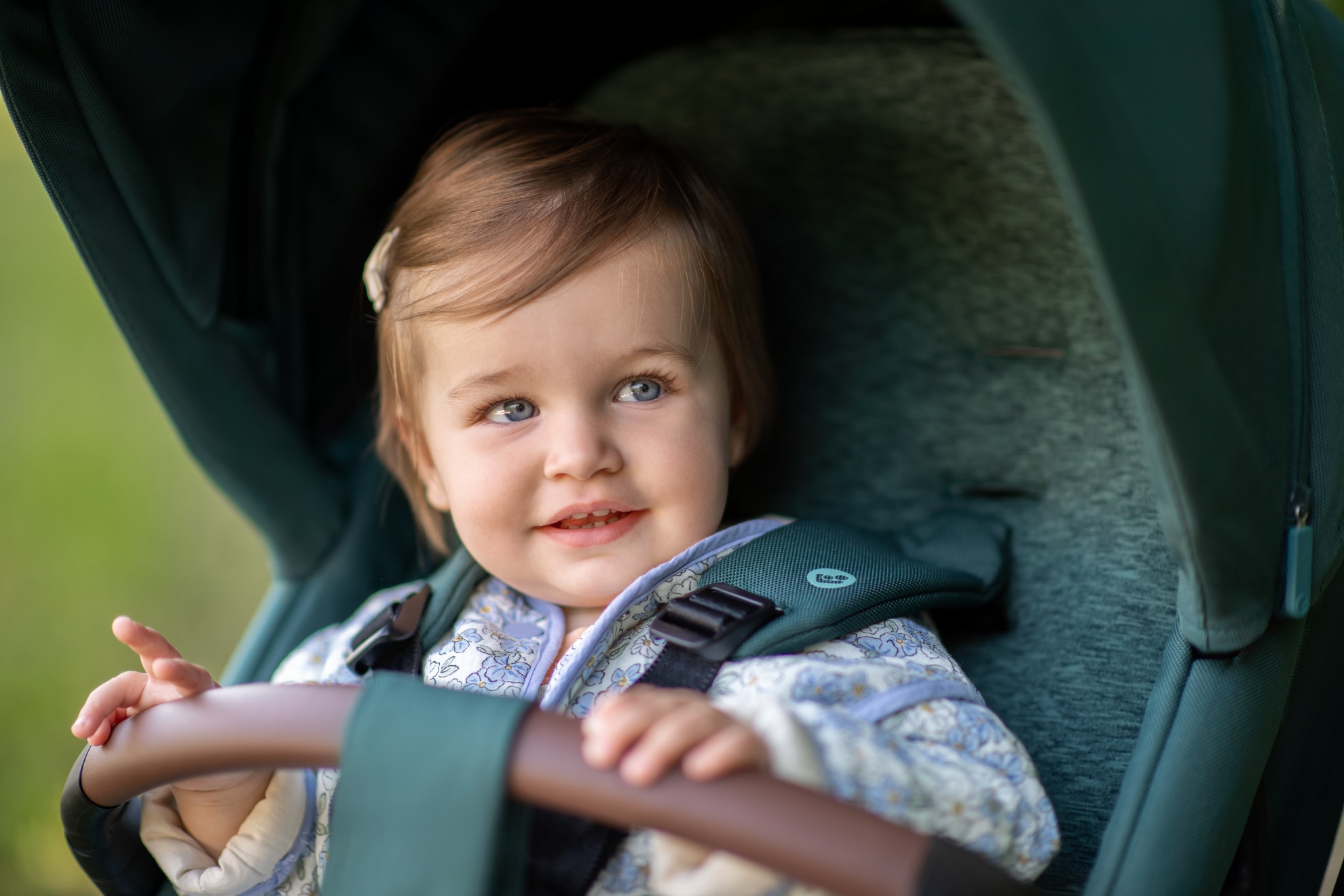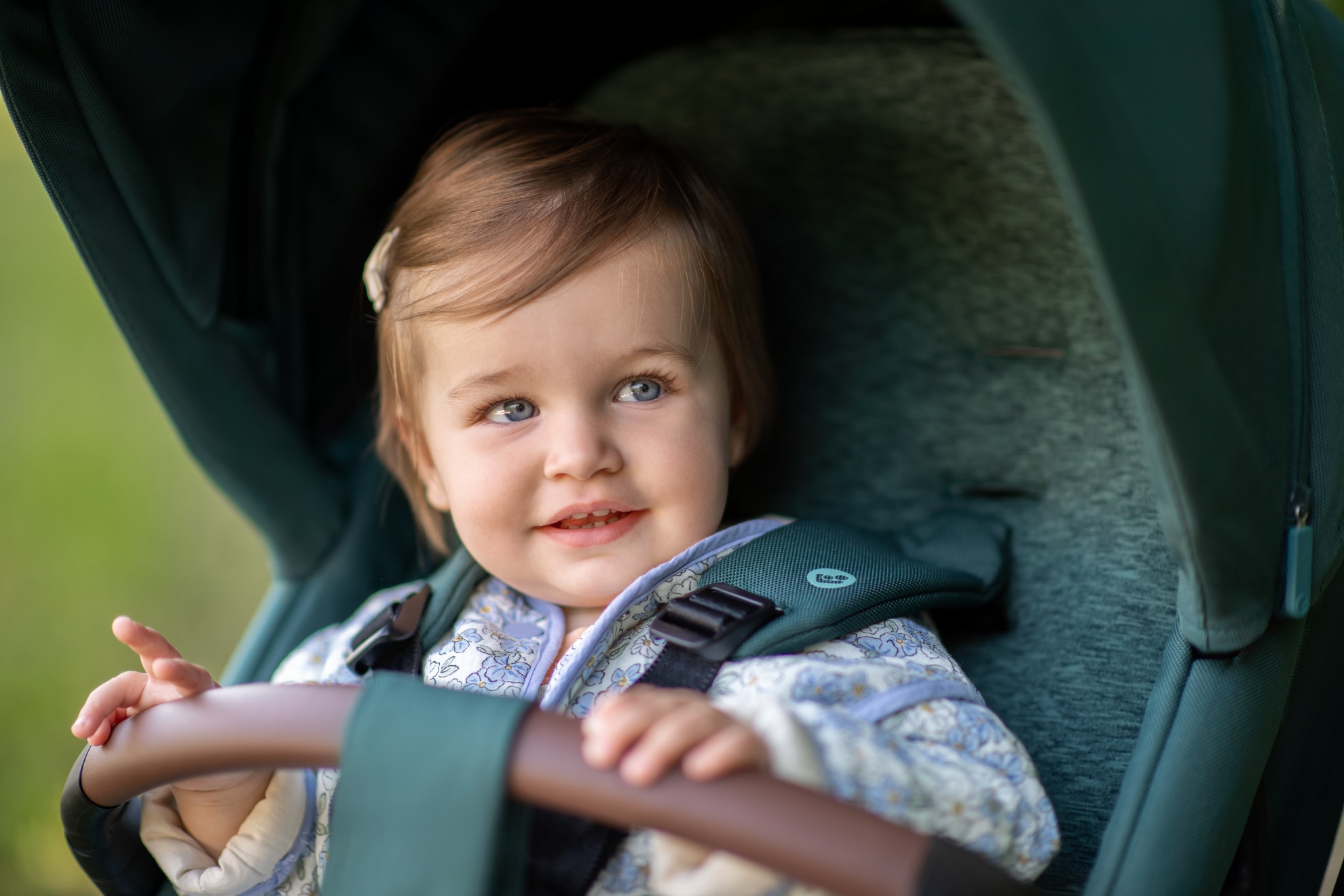 When can your child face forward in a pushchair?
Helping you decide when is the right time to switch from parent-facing to street-facing 
Most experts agree that a parent-facing pushchair or a carrycot, which allows direct eye-contact, is best for your new-born baby's development and wellbeing. However, unlike with a car seat, there's no law saying which direction your baby must face in a pushchair and at what age. Instead, you can decide what is best for you and your child as they grow. We explain the benefits of both parent-facing and forward-facing pushchairs, to help you to make up your mind.  
When can baby sit upright in a pushchair seat? 
Regardless of whether you opt for a forward-facing or parent-facing pushchair, experts recommend that the lie-flat position is healthiest for your new-born, combining a carrycot with your pushchair is the easiest way to do this. Even if you are only planning a short walk, it won't be until your child is around four or five months old that their head and neck muscles will have developed enough for them to travel in a more upright position. You'll know they are ready when they can sit up with little or no support. 
Take a look at our from-birth pushchairs. 
What are the benefits of a parent-facing pushchair? 
From birth to around nine months old, eye-contact is essential for your baby's well-being. Research suggests that when you push your baby facing you it can benefit their social and language development.  
A parent-facing pushchair allows you to give your baby reassuring eye-contact, helping them to relax.  

Talking to your baby, even if they can't respond, is crucial for their language development. Many parents find it easier to talk to their child if they are looking at them.  

A parent-facing pushchair can also help parents to relax more on a walk as you can see exactly what your baby is doing, giving you peace of mind. 

Find out more about the benefits of choosing a parent-facing pushchair. 
Are there any benefits to using a front-facing pushchair? 
As your baby gets older, they will become more curious about the world around them. When your baby is sat in a street-facing pushchair they can discover this world more easily than when they are facing you. If you and your baby are looking at the same things, it can help with developing language skills as you can name the things you are seeing.  
Switching to a forward-facing pushchair: do I need a transition period?  
Lots of parents ask; "when can my baby sit forward in a pushchair?" Deciding what age should baby face forward in a pushchair depends on what feels right to you and your baby. Try and be led by them. If you have recently switched to a forward-facing pushchair, make sure you keep on checking your child when you are out. If they seem to be more stressed, it may be worth switching back so they travel facing you until they are older. You could also try a short transition period to make the switch easier. During this time switch between forward-facing and parent-facing for short periods of time to get your baby used to the change. 
Reversible pushchairs to suit every trip out 
There's no need to limit yourself to a pushchair facing in just one direction. For the ultimate flexibility, choose a pushchair that lets you easily switch between both positions depending on what you are doing and how your child feels. Take a look at our Maxi-Cosi range of reversible pushchairs that let you chose the direction of travel in a couple of clicks.
For more tips and hints, read our guide to choosing the right pushchair for your lifestyle.